You've poured and sipped all of the best wines Oregon has to offer. Now it's time to eat. We've compiled a list of six Willamette Valley restaurants you'll want to experience during your visit to Oregon Wine Country. Taste the farm-to-table difference with tasty handmade pasta from Nick's Italian Cafe or indulge in a chef-crafted five-star dinner at The Painted Lady. The Willamette Valley has a little something for every palate. 
For additional recommendations on where to eat to what to do during your visit, be sure to access our exclusive Vacation Guide. Don't miss out on the best in the Willamette Valley—get your guide today!
What You Need to Try at the Best Willamette Valley Restaurants
The Willamette Valley boasts some of the best dining options on the West Coast. Whether you're searching for casual consumption or five-star fare, your taste buds will be delighted. Discover our favorite Willamette Valley Restaurants during your next visit. 
Bistro Maison is the place to go for farm-to-fork French cuisine. You'll want to get their signature Oregon White Truffle Fondue to share and the slow-roasted duck breast covered in crisped orange cognac sauce for yourself. From the neighborly service to the hand-crafted dishes, you can't go wrong at Bistro Maison. 
Nick's Italian Cafe: Carlton Farms Pork Ravioli
Nick's Italian Cafe is as authentic as it gets when it comes to homestyle Italian cooking. All pasta is crafted in-house and topped with world-class meat sauces. We love Nick's Carlton Farms Pork Ravioli. Carlton Farms pork is individually prepared every day, so you'll want to ask your server for the day's creation.
This Spanish-influenced, tapa-style restaurant allows for perfect wine pairings with authenticly crafted dishes. La Rambla is conveniently located just 10 minutes from Youngberg Hill, making it a guest favorite. The pan-fried Empanadas are a must-order and, the bacon-filled, Calabrese aioli-covered Pork Croquetas are a crowd favorite.
The Painted Lady: BYO(Youngberg Hill)W 
The Painted Lady in Newberg offers immaculate service and a chef-inspired tasting menu. The question is never what to order at this exquisite eatery—you'll want to leave that up to Chef Allen. Instead, enhance your visit with a bottle of Youngberg Pinot Noir. Let the helpful staff uncork and pour, and start enjoying your little piece of paradise right here in the Willamette Valley.  
The Joel Palmer House in Dayton knows a thing or two about hunting truffles. It's helpful to have a taste for all things mushrooms when entering the door, but not necessary. The five-star dining experience includes everything from a crusty three mushroom tart to a juicy rack of lamb. Take a peek into true truffle harvesting at Joel Palmer's.   
The Barberry: Steak and Chops
The Barberry is McMinnville's stop for the steak and potatoes. Our favorite cut is the 12 oz Snake River Farms American Kobe Top Sirloin topped with creamy béarnaise and paired with grilled green beans and Bob's Red Mill grits. Pair with a glass of Willamette Valley's Pinot Noir or a flight of Oregon's best whiskeys.   
Come Back to the Comforts of Youngberg Hill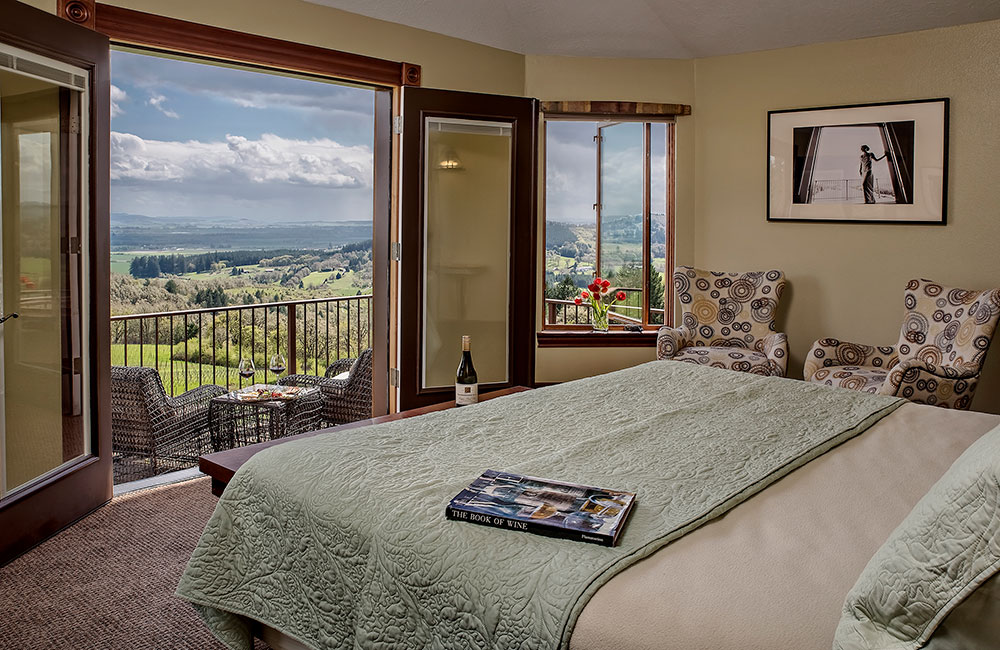 Once you've had your fill of the best Willamette Valley restaurants, you'll be ready to unwind at the luxurious Youngberg Hill. Book your stay in the stunning Martini Suite and enjoy a king-size bed, air jacuzzi tub, extra-large bathroom, second-floor balcony, and awe-inspiring views overlooking the vineyards, the valley, and the mountains.
Pair your culinary experience with a one-of-a-kind wine tasting tour. Schedule our Winemaker Tour and Tasting and walk the vineyards and taste the wines with the winemaker, Wayne Bailey. We are so excited to welcome you to the Willamette Valley!