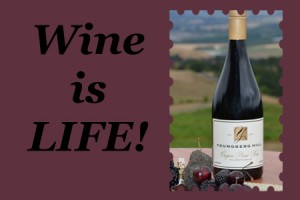 Wine has been a part of our society for thousands of years.  There is evidence of wine production and consumption in the Sumerian culture some 3000 to 4500 BC.  Writers, poets, historians and the like have integrated the subject of wine into their writings, just as we today see wine as a symbol of togetherness, celebration and relaxation.  As a grower and producer of wine, I like to compare the milestones in my life to the process of growing grapes, making wine, letting it age and so forth. Let's take a trip through life.
The nine months the grapes are developing on the vines is similar to the nine months that a baby is in the womb. The fetus is nurtured through the mother just as wine grapes are nurtured through the vine.
At harvest the grapes are transformed into wine in the winery, just as a fetus becomes a baby. In both cases, they are now independent and yet dependent on the care of the winemaker/parents.
From birth to adulthood, parents are nurturing the child, keeping it safe, and helping it develop. The winemaker is doing the same for the wine through the winemaking process and on into barrel.  In both cases, the best possible outcome will be to allow the child/wine to develop without any preconceived notion as to what it should be.
Otherwise it may not reach its full potential.  As wine ages in the barrel (and a child becomes a young adult) it begins to mature and develop the characteristics that will define it for years to come.
Once in the bottle, the wine begins the slow aging process that, if developed well, will continue to get better, just as a young adult gains knowledge and wisdom through life's experiences and grows into a mature adult.  Wine continues to develop in the bottle, at some point reaching its prime.  After that, the wine will continue to be good for a very long time, which with any luck is just what we do, too!