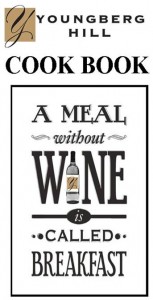 After 25 years of greeting our guests with a 2 course gourmet breakfast, you'd think we'd have some fantastic recipes under our belt here at Youngberg Hill. And, you'd be right!
Today we are sharing one of our most requested recipes, our hearty, no fuss, granola. Here it is!
Youngberg Hill Homemade Granola
Serves 10
Ingredients:
8 cups Rolled Oats (not quick cook)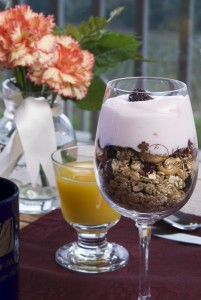 ¾ cup Whole Almonds
¾ cup Cashews
½ cup Brown sugar
½ teaspoon Salt
½ teaspoon Ground Cinnamon
¼ cup Cooking Oil
¼ cup Honey
1 teaspoon Vanilla Extract
1 ½ cup Dried Fruit/Berries
Directions:
Preheat oven to 350 and prepare a large sheet pan by spraying with cooking spray. Set pan aside.
Mix oats, almonds, cashews, brown sugar, salt and cinnamon in a large bowl. Make sure you mix them well.
In a saucepan, mix oil, honey and vanilla. Whisk mixture over low heat.  When hot, pour over oat mixture and mix well.
Spread mixture out on your large sheet pan.
Bake for 15 minutes.
Allow granola to cool completely. Then break up any clumps and add dried fruit or berries.
We love serving our granola along with Greek Honey Yogurt.
Here at Youngberg Hill Inn, we serve a fantastic breakfast every day, and after 25 years we know quite a few recipes. Would you like to see more breakfast recipes? Let us know!