You can't visit the Willamette Valley without tasting the amazing wealth of spectacular Oregon Pinot Noir. This area has the ideal growing conditions for Pinot—considering we share the same 47-degree latitude with Burgundy, France—the temperate summers and wet winters combine to create a fertile place for these vines to thrive. The best Willamette Valley Pinot is intensely concentrated in flavor yet is also soft on the palate with an elegant and lush finish.
Fantastic bottles of Oregon Pinot Noir all start with the grapes. Our esteemed owner and winemaker, Wayne Bailey, is known throughout the Willamette Valley (and beyond) for his innovative and sustainable biodynamic farming practices. Our winery uses only organic materials with minimal intervention; we let the fruit speak for itself, which translates to Oregon Pinot Noir with rich, ripe berry notes and lively, earthy, and bright flavors.
One of the best places to stay in the Willamette Valley is our McMinnville Bed and Breakfast and winery. Not only will you be steps from the tasting room of some of the most delicious Oregon Pinot Noir from Youngberg Hill and Bailey Family Wines, but your luxury accommodations are unparalleled in the valley. Our nine unique and artfully appointed guest suites set the ultimate backdrop for a romantic getaway for two or a couple's retreat to wine country.
Start planning your Willamette Valley Pinot Noir adventure, and book your stay today!

The Best Oregon Pinot Noir in the Willamette Valley
The best Oregon Pinot Noir, in our opinion — is found at the Youngberg Hill tasting room, which, we're happy to say, is open for both walk-in tastings and tastings by appointment. You can be seated for a tasting or exclusively hosted by one of our knowledgeable Wine Ambassadors. Bonus: guests receive complimentary Youngberg Hill tastings and generous discounts on the Bailey Family wine flights!
Here are our favorite Willamette Valley wineries for tasting Oregon Pinot Noir: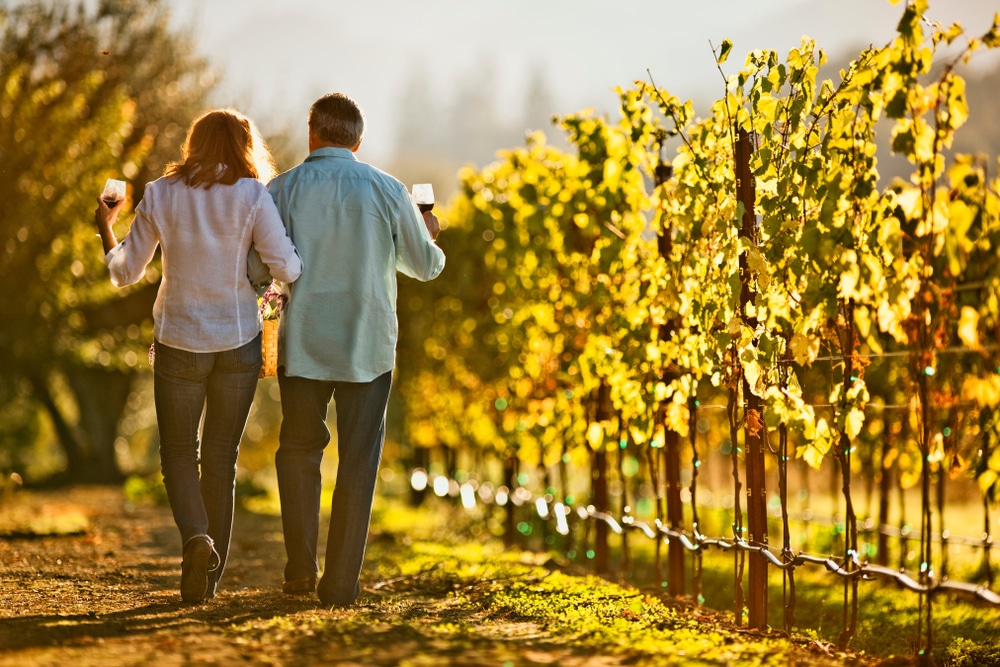 Yamhill Valley Vineyards: Find a wine barrel table for a signature or reserve a flight featuring the spectrum of Oregon wines. Pair that with a local meat and cheese board for a lovely experience in Oregon wine country near our B&B.
Stoller Family Estates: Some of our favorite wineries are in the Dundee AVA, which is just a quick drive from our Inn, and you'll find lovely Oregon Pinot Noir here. Enjoy the sit-down tasting and lunch options made by appointment.
Sokol Blosser Winery: Also located in Dundee, this beautiful winery offers a 75-minute sit-down wine tasting experience. Choose from a selection of tasty small plates to pair with your flight.

The Best Place to Stay in the Willamette Valley
When choosing where to stay in Willamette Valley, the best place to stay is within a leisurely stroll from where you'll be tasting some of the best Oregon Pinot Noir. It's the best of both worlds, you'll love our diverse wine selections, but you might not want to leave your impeccable guest suite. Lodging at the Youngberg Hill Inn—the premier McMinnville Bed and Breakfast—will be an unforgettable experience. Located atop our 50-acre estate and overlooking the beautiful vineyards below, you'll be privy to one of the most stunning views in the world. With nine guest rooms, extraordinary views, and every modern luxury amenity you could wish for, you'll want for nothing during your time here. Join us!
Experience the very heart of Oregon's Pinot Noir wine country, and book a room at our Willamette Valley bed-and-breakfast today.