In the early part of the new year in the Willamette Valley, one of our favorite things to do is truffle hunting. During those months, these rare and delectable fungi are found in abundance (by trained truffle hunting dogs!) in the Valley. February is even designated as Truffle Month in the nearby charming town of Newberg, OR, and it's where one of the most esteemed culinary events —the Oregon Truffle Festival—is held each year.
While some people do set out on their own to try their hand at truffle hunting in the Willamette Forest, it's best to book a guided tour from one of our local touring companies. Many of these outings are paired with a wine tasting and a meal prepared with truffles. If you're more about dining out with truffles in mind, many must-try Willamette Valley restaurants are offering Oregon truffle-focused coursed dinners or menu items.
Heading to Willamette Valley for a weekend getaway involving truffle hunting and wine tasting is such a unique experience. You'll navigate through the woods with a small group and an adorable pup leading the way. After a day in the fresh air, getting your hands dirty, you'll want to retreat to our comfortable Bed and Breakfast near McMinnville. Youngberg Hill Inn and Winery is 5-Star luxury lodging in the heart of Oregon's wine country. Start planning your Oregon truffle hunting adventure and book your stay today!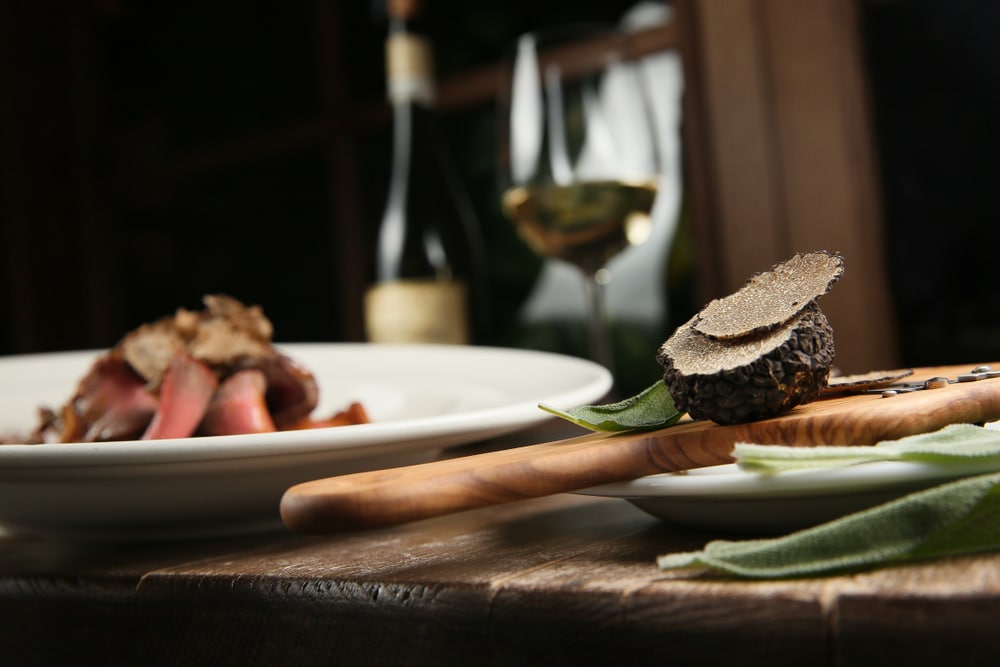 The Best Oregon Truffle Hunting Activities in 2022
We look forward to truffle hunting season year-round, mainly because it's another excuse to enjoy decadent meals from the brilliant culinary minds of the Willamette Valley with beautiful wine pairings. Not that we need a reason to drink more wine! Here are our favorite truffle-focused events to check out this February:
Oregon Truffle Festival: Throughout January and February each year, the Oregon Truffle Festival partners with restaurants, wineries, and companies in the Willamette Valley to put on a host of events celebrating the elusive fungus. Head to their website and sign up for their newsletter to get the latest news on events and activities.
Joel Palmer House Restaurant: The Mushroom Madness tasting menu is always an excellent choice at this fine-dining institution in Dayton, OR. You'll find an array of fungi in creative dishes and, as always, the stellar wine selection to pair with your meal.
Newberg Restaurants Truffle Hunting Specials: Downtown Newberg was recently recognized by USA Today as one of the best small towns to visit for the food scene. Many of these fantastic restaurants will be offering a truffle special during February. Be sure to check out Subterra Kitchen and Cellar, Ruddick/Wood, and The Painted Lady for romantic and elegant dining options.
Black Tie Tours: Sign up for the Oregon Truffle Forage Adventure with owner Stefan Czarnecki and his trained truffle dog Ella. After an hour or two excursion, you'll enjoy a truffle-themed lunch and a wine tasting.
Prestige Wine Tours: The Oregon Truffle Hunt Tour sends guests out into the forest of Douglas Fir with a trained truffle dog for a morning of adventure.
Wolves and People Farmhouse Brewery: Available starting in February, the much anticipated La Truff, a hazelnut stout infused with truffle, is available in the bottle to drink in the beer garden or take to go.
Bistro Maison: One of the most popular dishes at this local French bistro is the white truffle fondue. Served with local ham, apples, fingerling potatoes, and bread, all perfect for dipping and sharing.
Suzy's Chocolates: For beautiful handmade chocolates with unique flavor combinations, this local chocolatier is not afraid to try new recipes.
Third Street Oil and Vinegar: This charming shop on the main drag in downtown McMinnville has an amazing selection of, you guessed it, oil and vinegar! But they also have so much more than that. Check out their line of EVOO beauty products. And don't miss the black truffle olive oil.
Red Hills Kitchen: Check out this McMinnville restaurant for delightful seafood dishes and beautiful charcuterie and cheese boards. During truffle hunting seasons, don't miss the mouth-watering truffled jo-jos.
For more suggestions on local McMinnville restaurants who love to celebrate truffle month as much as we do, head over to our website here.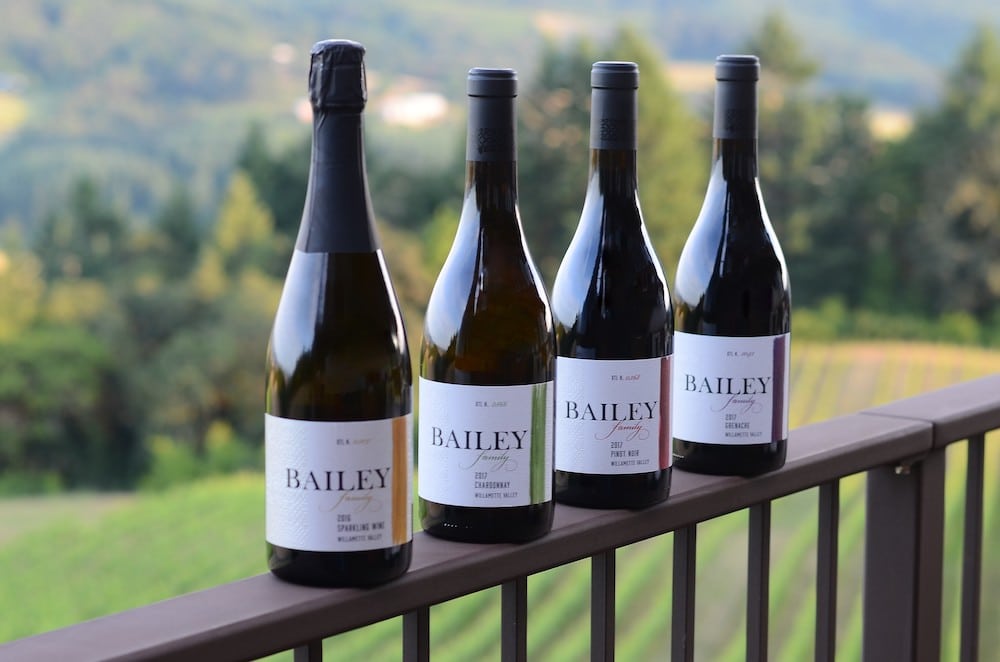 While finding the perfect wine pairing with truffles can be tricky, our reserve label wines from Bailey Family are elegant and versatile. We suggest our sparkling wine if you're enjoying an appetizer with truffles. Made from blended Chardonnay and Pinot Noir, you'll detect notes of pear, vanilla, and rose petals, which all nicely compliment the earthy flavors of white truffle.
For your main courses, grab a bottle of our 2017 Bailey Family Pinot Noir with bright tannins, hints of candied cherries, and tobacco. Drink this with your black truffle risotto or other truffle topped entrees. This spectacular vintage will be the best reward after a day of truffle hunting in the Willamette Valley.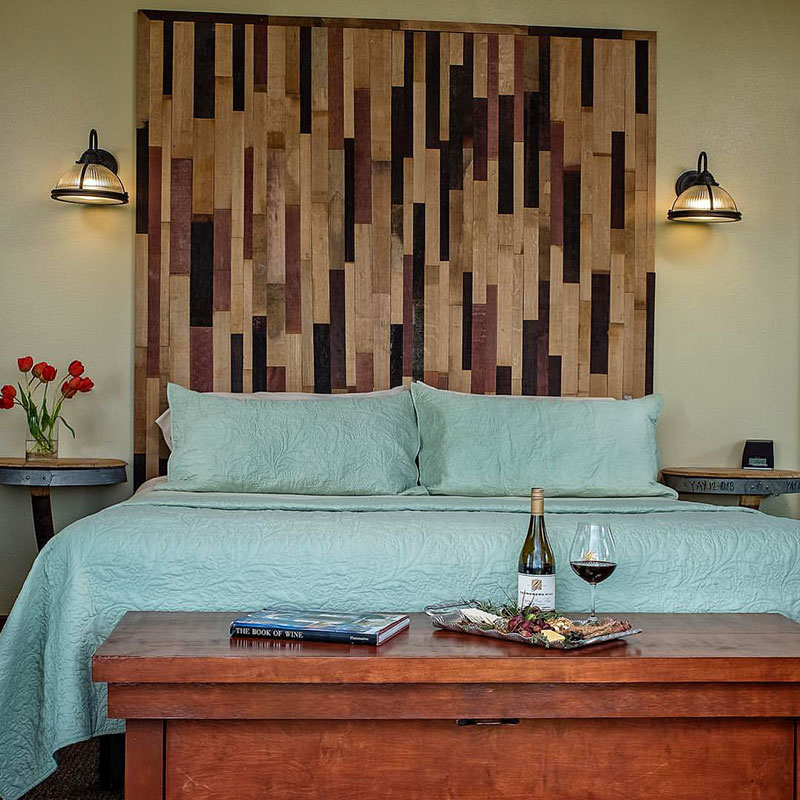 Luxury Lodging in the Willamette Valley at our Oregon B&B
Our world-class Inn has nine impeccable guest suites designed for pampering and relaxing. Whether you're looking to escape for a quiet weekend just for two or a couple's vacation with truffle hunting on the menu, staying at our Willamette Valley Bed and Breakfast will be a big part of your adventure, not just a place to stow your luggage. You'll also get the VIP treatment at our wineries: half-price tastings of our reserve label Bailey Family Wines and complimentary flights of Youngberg Hill wines.
Our Willamette Valley Bed and Breakfast is located about 10 minutes from downtown McMinnville and only minutes away from more than 100 neighboring wineries. We always encourage our guests to taste with us, but also to discover the amazing winemakers of the nearby AVAs. The Willamette Valley, while known for Pinot Noir, also produces an extensive array of varietals and wine styles that really shouldn't be missed. Book your room today!