If you're not sipping wine in the valley, it's time to sink your toes into the best of Oregon Coast beaches. The stunning blend of mountainous terrain meeting the crashing waves of the Pacific make for a beach trip like no other. Reserve a day to see the magnificent sights of the western coastline. 
Ditch the stress of planning the perfect trip with our exclusive Vacation Guide. Our complimentary guide offers the best things to do and see during your Willamette Valley vacation!
The Best Oregon Coast Beaches
Dip your toes in at some of the state's most pristine coastlines. Make the most of your Oregon visit with a stop at these Oregon Coast beaches. 
Pacific City Beach is located just an hour west of Youngberg Hill. It tops our list not only because of its proximity but because of the awe-inspiring views and endless array of things to do. Rent an ATV, revel in the views of Haystack Rock, and even take your four-wheel-drive vehicles onto the sand!  
Nye Beach is centrally located in Newport and features an endless sandy coast. It's a popular spot throughout the summer months for beach-goers looking for an idyllic day on the beach. You'll want to tote along all of the typical beach gear such as towels, sand toys, and umbrellas and expect to stay until the sun sets. 
Don't leave Oregon without experiencing the magic of Cannon Beach. Named one of the Top 100 Most Beautiful Places in the World by National Geographic, this breath-taking beach is like none other. The coast is surrounded by swaying seagrass, and the sand is warm and plentiful during the summer months. 
Its notable Haystack Rock, which juts out of the crashing waves just off the coast, is a seasonal home to tufted puffins traveling from the north.
If you're in search of an adventure, plan a visit to Cobble Beach. The basalt cobblestones that cover the beach are said to date back to a lava flow nearly 14 million years ago. The beach is filled with tidepools that play home to sea anemones, urchins, starfish, and more! End your visit with a short walk to Yaquina Head Lighthouse and a stunning view of the Pacific. 
Arcadia Beach State Recreation Site
Arcadia Beach State Recreation Site is an untouched gem along the Oregon Coast. The sea stack-scattered area provides ample opportunity for adventure and relaxation alike. Bring your towel and your walking shoes—you'll need both to explore all that Aradia Beach has to offer.    
Come Back to Your Vineyard-Side Oasis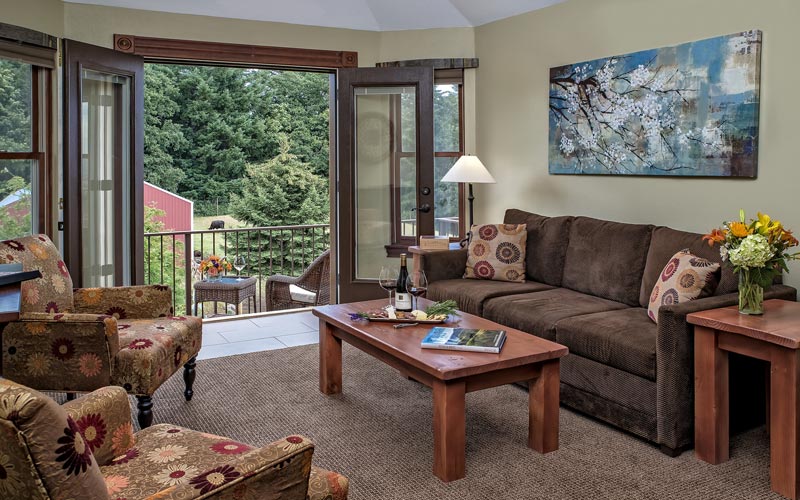 Shake out the sand at your private suite at Youngberg Hill. Book your stay in the Jackson Suite and enjoy a king-size bed, electric fireplace, queen-size sleeper sofa, oversized double head shower, and your own second-floor balcony overlooking the grounds. 
Complete your visit with one of our immersive wine tasting experiences. You'll enjoy a private sitting with one of our knowledgable wine ambassadors while you enjoy some of our most elite bottles. Step it up a notch with an exclusive wine tasting with the winemaker himself with our Bailey Family Wine Tasting! We cannot wait to welcome you to Youngberg Hill!