We adore Oregon Wine Country. But if you're in search of the hoppier side of the Valley, we have everything you need to know about the best Willamette Valley breweries. From farmhouse brewpubs to beachside bungalows, the Willamette Valley truly matches the brews with the views. Discover your favorite brewery during your next visit!
Complete your trip planning with our complimentary Vacation Guide. Our on-the-go guide provides hand-picked recommendations for where to dine and what to do during your trip to McMinnville. Get yours now!
Your Guide to the Best Willamette Valley Breweries
We already know Willamette Valley is brimming with some of the best wineries in the country, but did you know our region is bursting with brews? Here are our seven favorite alehouses that are sure to impress sommeliers of all sorts.  
Wolves and People Farmhouse Brewery
Wolves and People Farmhouse Brewery is a shiplap-adorned, farmhouse nestled in the stillness of wilderness and wildflowers. The Newberg brewery is only interested in two things—good people and great brews. Bring a picnic and stop in for their homegrown hops and Joanna Gaines-esque flair.
Allegory Brewing is the perfect place to grab a brew on tap and bask in the Oregon sunshine. Gather around the fire pit or lounge with your shades on. This is the spot in McMinnville for a relaxing brew tasting.  
Barn Door Brewing in Dundee is malted with history. When the Mandel Family immigrated to Oregon from Germany during the prohibition days, they quickly constructed a makeshift hop dryer hidden on the property for crafting the best brews in town. 
At the end of the era, the dryer was disassembled, and the wood was used to create a barn. Although the original building has changed, Barn Door Brewing offers guests a step back in time and a great beer to boot.
Salem Ale Works is a chicly rustic brewhouse in the heart of Salem. The brewery offers fourteen, in-house tap selections, two guest ciders, and wine by the glass. They also offer Oregon pasture-raised, all-beef burgers, hand-cut fries, housemade soft pretzels, and so much more.
Bierly Brewing is breaking molds for gluten-free beer. Long gone are the days of dietary restrictions affecting our drinking habits. Make a stop at McMinnville's only gluten-free brewing establishment for tasty ales and apps that everyone can enjoy.
Experience one of the few breweries owned and operated by monks. Benedictine Brewery is located on the hilltop of Mount Angel. It is crafted from locally grown hops harvested by the monks. Each batch is crafted with pristine precision guaranteed to impress.
Get the sand between your toes and the stout on your lips at Pelican Brewing. If you need a quick coastal escape, head over to Pacific City for a wide array of brews and jaw-dropping views. What are you waiting for? The beach is calling.                        
Stay in the Heart of the Willamette Valley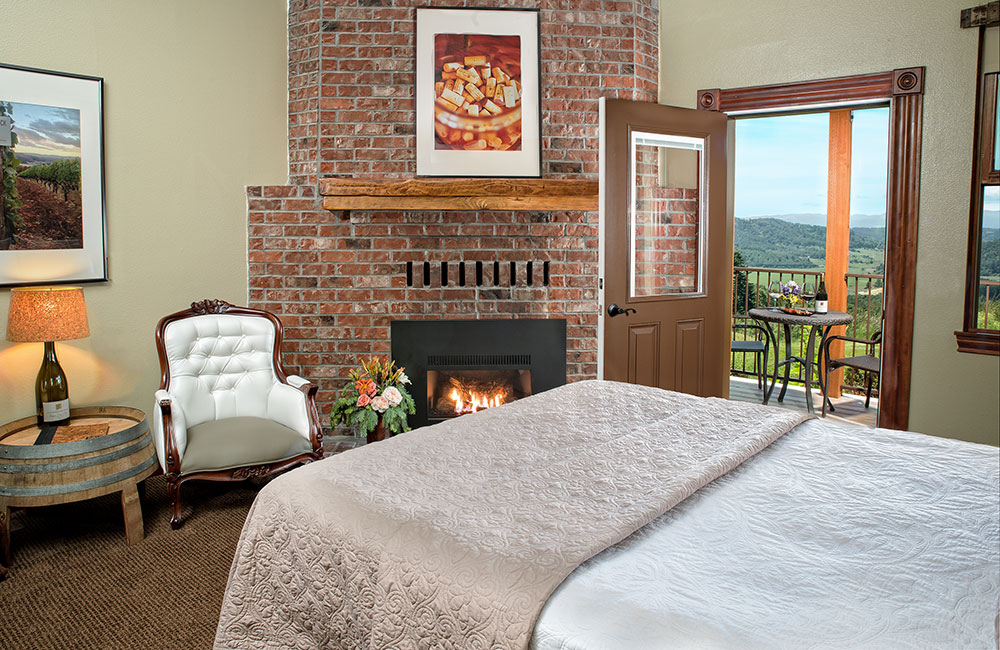 As your brew tour comes to a close, come back to Youngberg Hill. Book your stay in the Gamay Suite and open up to your private patio overlooking the stunning vineyards. The suite also features a queen-size bed, gas fireplace, an over-sized, double-head shower, and a complimentary two-course breakfast.
Get the best of both worlds with our exclusive Wine Tasting Experience. Spend the hour with one of our knowledgeable hosts while sampling our bio-dynamically harvested wines. There is a little something for everyone waiting in the Valley. We can't wait to welcome you to Youngberg Hill!