Springtime in the Willamette Valley finally means some relief from the chill of winter and our favorite outdoor activities can resume. Thankfully, our Willamette Bed and Breakfast is a great location near some of the best biking routes in Oregon Wine Country. If you love biking and wine, there's no better way to explore this area. Imagine riding by sweeping views of vineyards, dappled forests and big blue skies on these biking routes.
Our Willamette Valley Bed and Breakfast and winery is situated just 10 minutes from downtown McMinnville. The panoramic view from almost every window and outdoor space at the Inn is absolutely breathtaking. You've got to see it to believe it. Which makes our Willamette Valley Bed and Breakfast the best lodging for a getaway on two wheels for the nearby biking routes.
Of course, at our Willamette Valley Bed and Breakfast, we encourage responsible wine sampling and biking. When you get back from your invigorating day exploring the biking routes of the valley, you'll be able to ride on up to our tasting room at Youngberg Hill and have your much needed post-ride drink and then retire to your elegant guest suite at the Inn. Book your room today and start planning your outdoor adventure!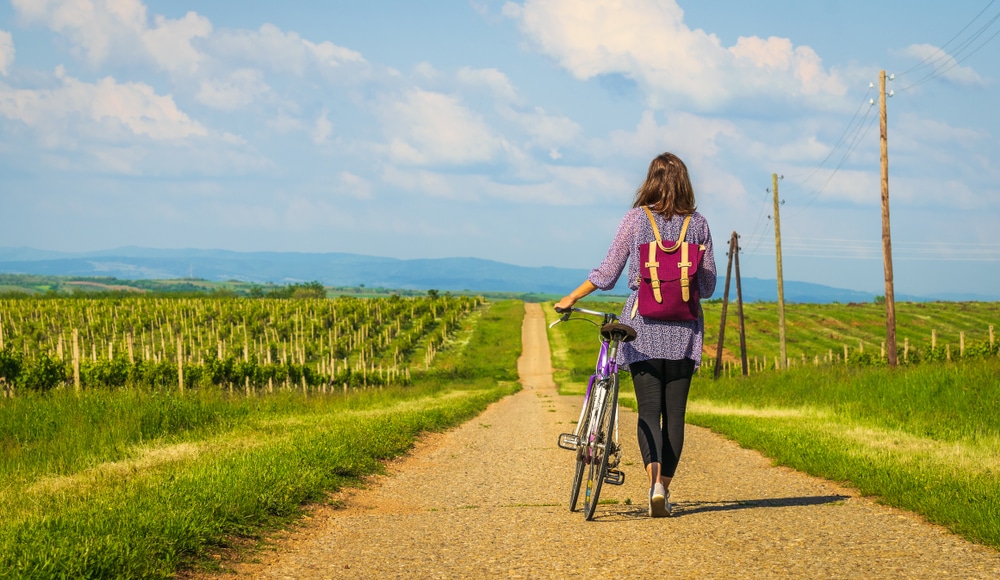 Check out these Biking Routes near our Willamette Valley Bed and Breakfast
At our Willamette Valley Bed and Breakfast, we like to do the work for you. We're always happy to make reservations at local restaurants or tasting rooms. We also love helping you plan the best getaway possible with fantastic wine and fun activities. Look no further for your cycling plans, here are some of the best biking routes near our Willamette Valley Inn ranked from easiest to most challenging.
The more approachable biking routes start and end in downtown McMinnville:
The McMinnville City Parks biking route avoids main roadways and is a great pick for an easy, laid-back ride. You can stop off along the way at the pretty parks of the area, downtown restaurants or find a shady spot for a picnic.
Another biking route for all levels of cyclists is the 14-mile McMinnville Wine Loop (this is one of the biking routes that includes our own winery—Youngberg Hill and our sister winery Bailey Family Wines). This loop takes you through the McMinnville AVA, expect a few hills that will make you break a sweat.
The McMinnville Riverside Drive starts and ends at the picturesque Joe Dancer Park. This 7-mile loop is perfect for a relaxing evening ride to see the sights of the area.
Moderate biking routes near our Willamette Valley Bed and Breakfast:
To view the ancient 90-ton boulder try the 18.4 mile McMinnville Erratic Rock Ride. This is one of the biking routes that could be a bit trickier for the novice riders due to the elevation. When you do make it up to the hill top though, the view will be worth the sore muscles.
This 26-mile biking route goes right by Youngberg Hill and Bailey Family Wines. The Muddy Valley Wine Ride explores the McMinnville AVA and is just the right amount of hard for the medium experienced riders.
You can make a full day of activities by bike on the Evergreen Museum-Grand Island Loop. Just over 30 miles, you could include a stop at the Evergreen Aviation and Space Museum, pit stops at area wineries and a bite to eat in Dayton, Oregon.
For the bravest of the wine country cyclists biking routes:
The McMinnville Peavine Climb is a tough 40-mile adventure with elevation of 2,500 plus with steep hills to match. Thankfully, the hardest part of your ride is near the beginning, as the last half is relatively flat. Let us pamper you at our Willamette Valley Bed and Breakfast after this biking route.
Add on miles to the McMinnville Wine Loop for a most challenging route tough incline hills and winding roads. The town of Amity is about half-way through this 46-mile route. Stop off there to recharge with lunch and a flight of some Oregon Pinot.
For even more details and maps of each of the biking routes, head over to the Visit McMinnville site, here.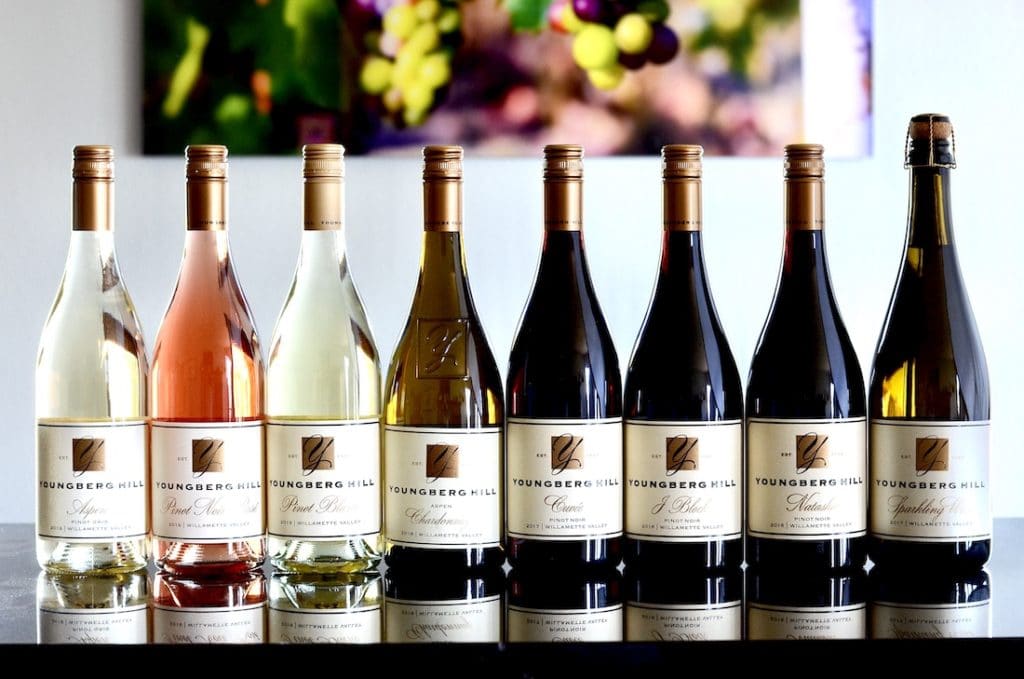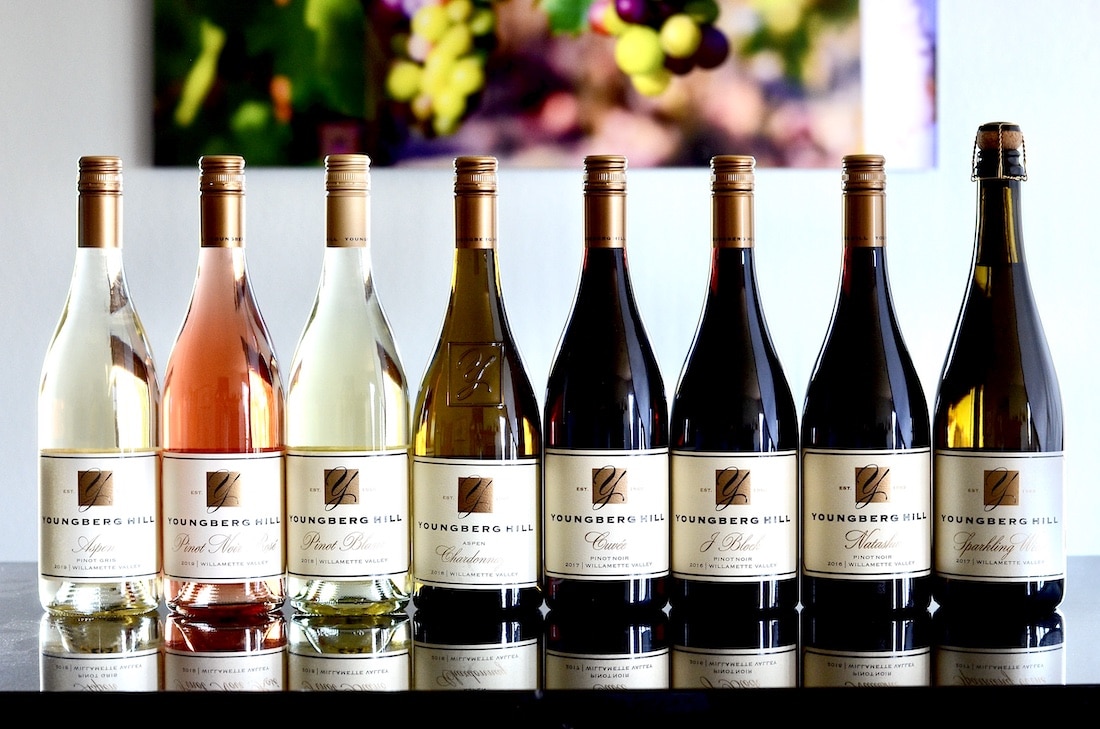 The Best Willamette Vally Lodging in Wine Country for a Biking Trip
When you stay with us at our Willamette Valley Bed and Breakfast, your tasting flight of Youngberg Wines is on us. You'll also have access to our exclusive label Bailey Family Wines. After a long and adventurous day navigating the nearby biking routes, you'll be ready to sip some tasty wine, take a hot bath and put your feet up.
All of our nine guest suites are equipped with high-end amenities. Gas fireplaces, cozy linens and comfy chairs. You'll either have a lovely double state of the art shower or a jacuzzi tub. Many rooms have private balconies facing the valley, you'll be hard pressed to find a better view in all of Oregon to sit for a glass of wine. We also treat all of our guests to an amazing, fresh and organic two-course breakfast every morning of your stay.
Once you've stayed at our Inn, you won't want to leave. It's not a surprise for us to see regular guests return year after year for their romantic getaways, cycling or hiking-focused vacations and girls/guys weekends. Top that all off with some delicious wine and a stay with us can't be beat. Here's to booking your next getaway at our Bed and Breakfast today!