If you're planning on visiting the Willamette Valley this year, there are so many exciting things to do in McMinnville, OR, during your stay. The charming downtown area of McMinnville offers a tree-lined historic main street with local shops, tasting rooms, and fantastic dining options. For those who haven't been to McMinnville, it's only about 45 minutes from Portland, making it the ultimate quick getaway destination, especially for those who might find time during the week—you'll encounter fewer crowds and be able to chat more in-depth with local winemakers and shop owners.
Of course, this area of the Willamette Valley is known for its collection of fabulous wineries, growing stunning and ever-popular Pinot Noir varieties, and more. Wine tasting will most likely be on the top of your list of things to do in McMinnville, but this area also offers more than just vino! You'll want to add a trip to the Evergreen Aviation Museum, tour the historic Linfield College, take a hike or bike ride or two at the city parks or nearby Oregon State Parks, take in some live entertainment, and book a culinary-focused food tour. There's no shortage of exciting things to do in McMinnville, OR!
No matter what your focus is during your time in the Willamette Valley, you'll want to make our luxurious McMinnville Bed and Breakfast and winery your home base. Our nine beautifully appointed rooms offer the perfect respite after a day of wine tasting through the valley, shopping on Third Street, or exploring our beautiful countryside. Each room has its own unique decor and layout, but all have high-end amenities, pristine en suite baths, cozy fireplaces, and seating areas. Book your room today!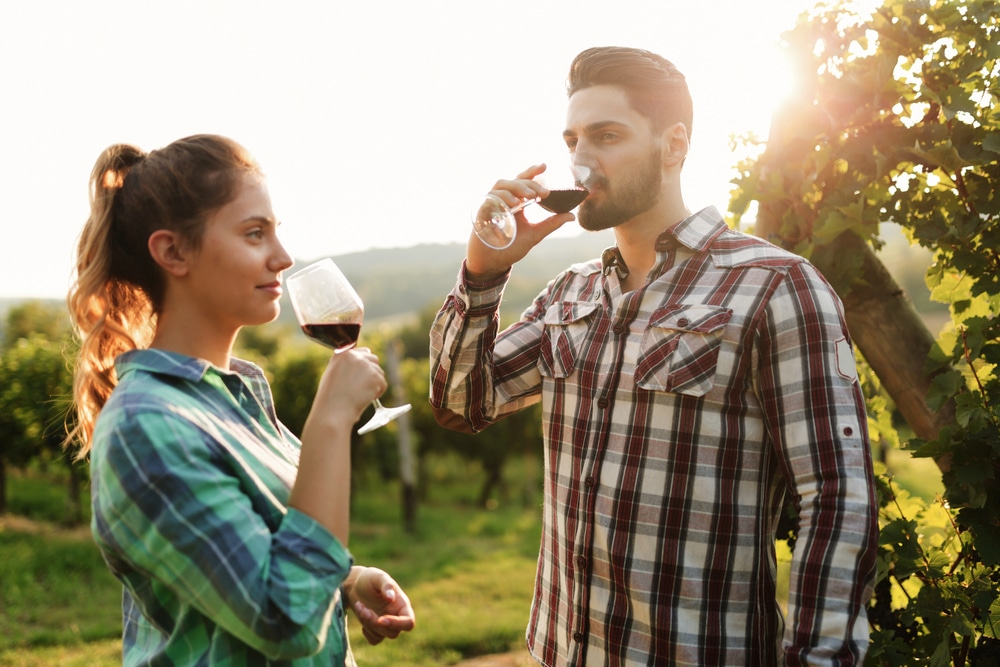 The Best Things to do in McMinnville this Year
As you begin to plan your getaway to Oregon wine country in the Willamette Valley, there are so many fun things to do in McMinnville that you could consider adding to your itinerary. The charming downtown is the perfect backdrop for a romantic trip for two, a guys' or girls' getaway, or even a solo retreat to reset and relax. You can't miss the historic Third Street, where you'll find a lovely collection of shops, restaurants, and tasting rooms. This area is a mix of longtime locals, coeds, tourists, farmers, and winemakers—all a warm and welcoming bunch eager to meet visitors.
Here are our top ten things to do in McMinnville, OR, this year:
Explore the Evergreen Aviation Museum: Holding the number one spot on TripAdvisor for the best things to do in McMinnville, this aviation and air museum is a must-visit. Explore the exhibits and interactive displays, and don't miss the infamous plane, the Spruce Goose, and many more impressive examples of this industry.
Tour the grounds of Linfield College: Established in 1858, this private liberal arts college in McMinnville offers ample grounds with beautiful stone buildings and old Oak trees to explore. Head out on a self-guided tour.
Book a guided wine tour: You'll find a handful of exclusive wine tours in the Willamette Valley. This is one of the best things to do in McMinnville to get an inside look at winemaking and tasting. All include sipping fantastic wines, door-to-door service, and often a picnic lunch in the vineyard.
Hit the local art galleries: Art galleries and museums in downtown McMinnville are some of the best locations to get a feel for our community of artists and the area's history. You'll find a lovley selection on Third Street within walking distance from one another.
Enjoy a farm-to-table meal: You'll quickly see that the majority of restaurants in McMinnville showcase menus that focus on using local and seasonal ingredients. The culinary talent in this area is unparalleled as chefs are moving closer to where their ingredients are grown for the freshest food.
Shopping for local finds and antiques: The six-block stretch of Third Street is the ideal destination for small-town shopping. The tree-lined street is home to a beautiful selection of charming boutiques and specialty shops. The Lafayette School House Antique Mall is an excellent stop if you prefer vintage items.
Grab a beer at Golden Valley Brewery: One of our favorite breweries in Oregon for craft beer (we partner with Golden Valley at the Inn, so you'll likely try their beers as a guest) but their restaurant location in McMinnville is a great stop for lunch and tasty brews on the outdoor patio, weather permitting.
Live Music and Entertainment: Downtown McMinnville boasts excellent venues for live entertainment and free shows, you may come across one as you're strolling on Third Street. We also welcome singers and songwriters to Youngberg Hill for performances regularly during the summer. Wine tasting with live music is one of the best things to do in McMinnville, hands down!
Hiking and Biking around the area: Whether you explore the mountains, hike through forests dotted with waterfalls, or spend a beautiful day on the Oregon coast, our area is an outdoor lover's paradise. One of our favorite things to do in McMinnville is visit the city's many parks and green spaces. There are guided bike tours or rentals for self-guided adventures. Wortman Park offers two miles of paved paths in a wooded 21-acre parcel and disc golf.
Wine Tasting at Youngberg Hill: As a guest at our McMinnville Bed and Breakfast, you'll receive a complimentary wine tasting at our tasting room on-site. You'll also take in one of the most breathtaking views from the ample windows and enjoy our open-air tasting space during the warmer months. For more in-depth tastings or a flight of our reserve label, Bailey Family wines, make a reservation here.
Our warm and welcoming staff at Youngberg Hill is always more than happy to help you plan your itinerary with all of the best things to do in McMinnville. Our concierge service is available to help make reservations, wine-tasting appointments, and more.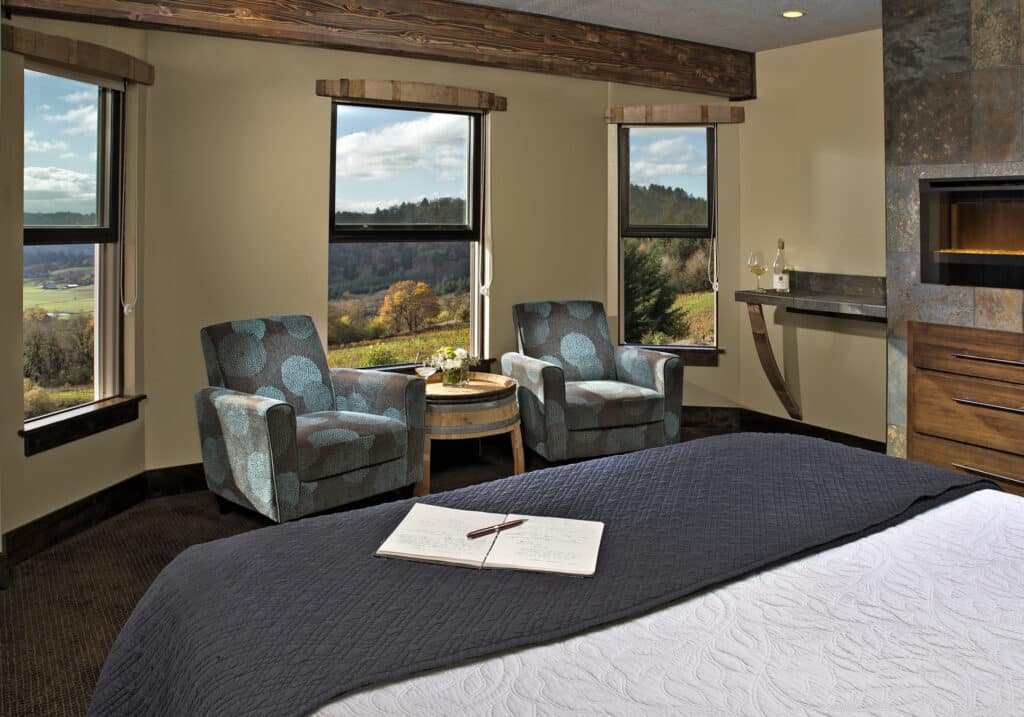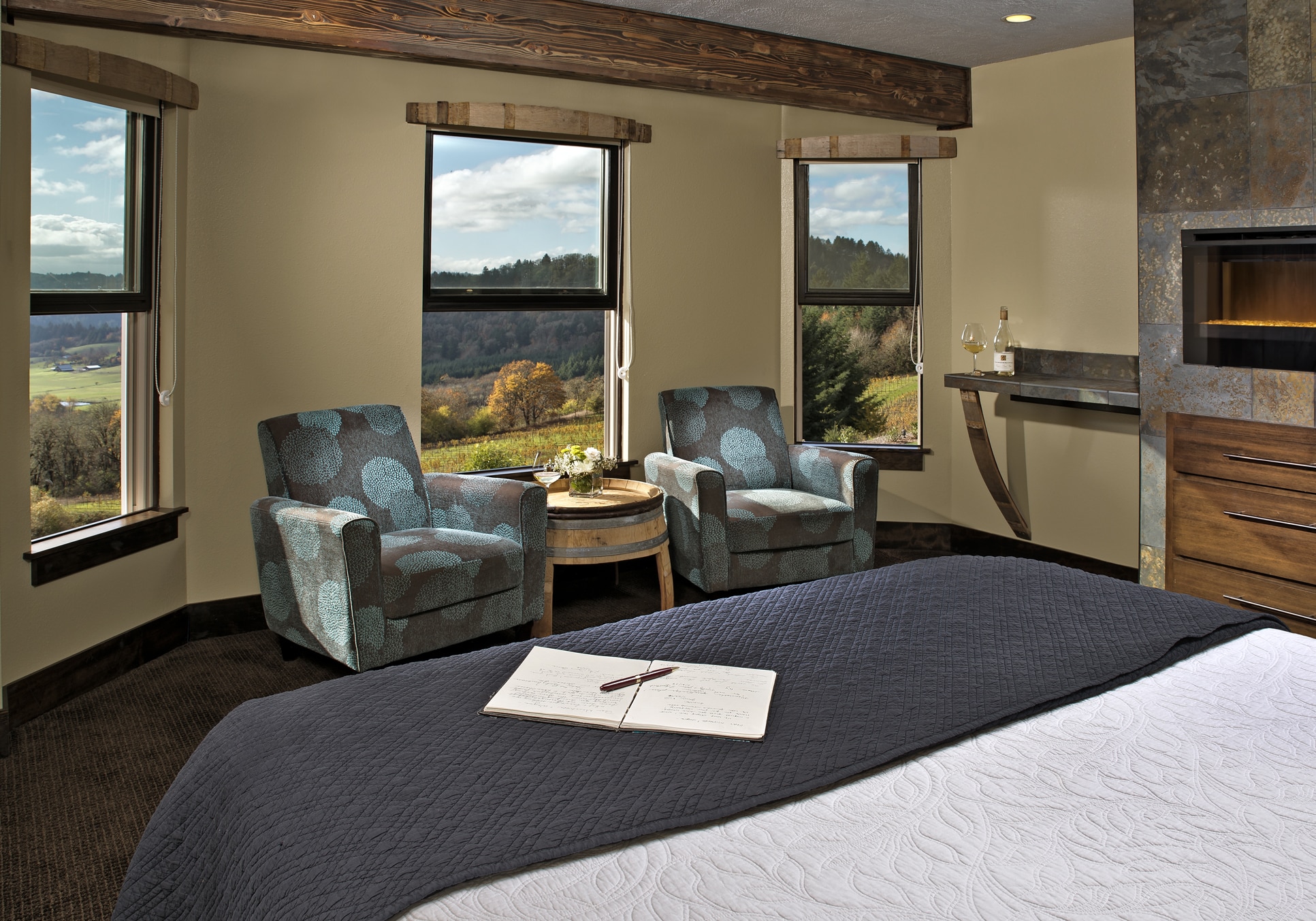 Relax at our Willamette Valley Bed and Breakfast
At Youngberg Hill, you'll discover a gorgeous estate winery and Willamette Valley Bed and Breakfast atop a 50-acre hilltop. The luxurious inn and tasting room overlook sweeping views of our organic vineyards and surrounding wine country with mountain ranges off in the distance. Our property offers total peace and privacy while still being within easy driving distance of all the best things to do in McMinnville and the greater Willamette Valley.
It's the perfect place to escape the crowds and noise that sometimes comes along with city living, and you'll find a cozy place to fully recharge and let the stress melt away. You'll choose from one of our nine elegantly appointed guest rooms with high-end touches, each complete with luxury amenities and stunning views of the valley. Each morning of your stay, you'll be treated to a delicious homemade breakfast packed with local ingredients and always served with hot coffee or a mimosa by request. And better yet, a complimentary wine tasting is included with your stay!
Our location puts you in the perfect place to head out and explore the bounty of unique wineries in the Willamette Valley and the best things to do in McMinnville—where you'll also find a fantastic selection of downtown tasting rooms, many of which are within walking distance from one another. Explore the exciting culinary options with menus celebrating our local farms, grab a latté and stroll the quaint downtown streets, and know that your warm and comfortable guest suite awaits your return. Reserve your room and start planning your next getaway today.