Summer is the perfect time for a romantic getaway, especially in Oregon Wine Country! You can spend the warm sunny days strolling the lush vineyards, sipping on some of the best wine in the world, and evenings dining out at award-winning restaurants. Make our Willamette Valley Bed and Breakfast your home base, and you'll have the most luxurious and private accommodations, creating the best setting for a special and memorable trip with your partner. Complimentary wine tasting and breakfast are always included with your stay! 
For starters, our Willamette Valley Bed and Breakfast is in a prime location in wine country. Just ten minutes from McMinnville, you'll explore the winding roads with sweeping vineyards on your drive out to our Inn. As you round the bend, you'll see our beautiful organic winery with our Inn like the crowning jewel atop a hill surrounded by our 50 acres of vineyards. Head up our private drive and let your romantic getaway begin! The first stop is always out to the deck to take one of the most breathtaking views in the valley. 
The amazing view will be at the forefront of your stay, as each of our nine guest suites is situated to provide a unique perspective of the stunning vista. The interior design of our Inn is inspired by the great outdoors, with exposed wood, clean slate, and neutral tones complemented by vibrant pops of color. Our decor also features artfully repurposed wine barrels as a lovely reminder of the working winery surrounding our Willamette Valley Bed and Breakfast. Start planning your next getaway and book your room today!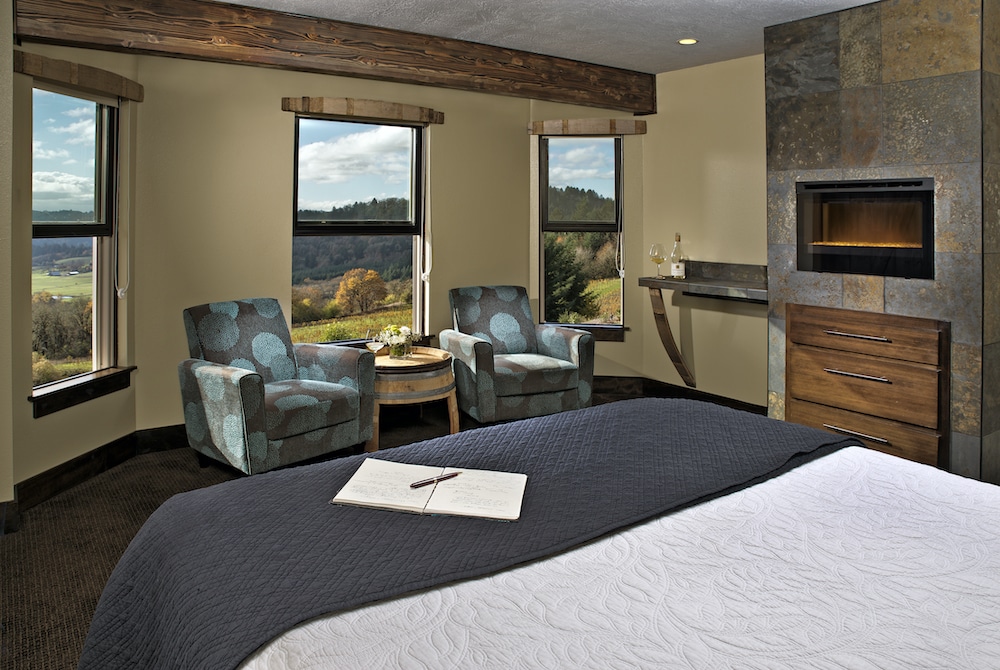 The Most Luxurious Willamette Valley Bed and Breakfast
Imagine spending an intimate night at our Inn, having a restful night's sleep, and waking to these sweeping vineyard views. We'll treat you to a homemade and seasonal breakfast, offer tips and tricks for the best wine tasting adventure, and we're happy to make reservations for you during your stay. You'll quickly see why we often host repeat guests!
Here are the ten best reasons to stay at our Willamette Valley Bed and Breakfast this year: 
The Spectacular View: As we stated above, our hilltop location in wine country gives us a unique vantage point with one of the best views in all of Oregon. You really have to see it to believe it, and once you find a comfortable chair with a glass of wine on a sunny afternoon, you'll see exactly what we mean.
Luxuriously-Appointed Guest Rooms: Our nine guest suites each have their own unique decor and design, but all offer a modern and comfortable space to fully unwind and relax. The spacious rooms contain everything you'll need while away from home.
Beautiful & Pristine En Suite Bathrooms: Each roomy private guest bathroom has a jacuzzi tub for soaking or a double two-person shower. The modern fixtures and elegant design create a lovely relaxing space in a bubble bath or steam session.
The Youngberg Hill Winery & Bailey Family Wines: Our organic and biodynamic farm and tasting room will be steps from our guest room. You'll love exploring the vineyards or participating in our private tours and tastings. Plus, guests receive complimentary tastings and discounts!
Location near other Willamette Valley Wineries: Our Willamette Valley Bed and Breakfast is right in the heart of the McMinnville AVA, and there are over 150 wineries, tasting rooms, and vineyards within 20 minutes of our Inn. 
Summer & Fall Events at the Winery: The beautiful weather is the perfect backdrop for outdoor events at our Willamette Valley Bed and Breakfast. We host live music every Wednesday, mimosas on Sundays, and other annual special events. 
Breakfast is on Us: We love cooking for our guests. Each morning we create a seasonal breakfast with items like pancetta tarts, Pinot poached pears, eggs Florentine, or warm white chocolate muffins. 
Customizable Enhancements and Special Packages: We have add-on packages to enhance your stay with us. Many offerings involve wine tasting adventures. However, we also feature a Romance Package, where you'll find a bottle of Youngberg Hill wine, complimentary Pinot glasses, and a tray of sweet and savory nibbles in your room. 
Concierge Services with a Smile: Our Innkeepers and staff pride themselves on attention to detail and being the best hosts during your stay. Let us know if you need reservations or recommendations! 
Just a Quick Trip to McMinnville: The charming city of McMinnville is a ten-minute drive from our Willamette Valley Bed and Breakfast. You'll find downtown tasting rooms, restaurants, cocktail bars, art galleries, and boutiques. There's no shortage of things to do nearby!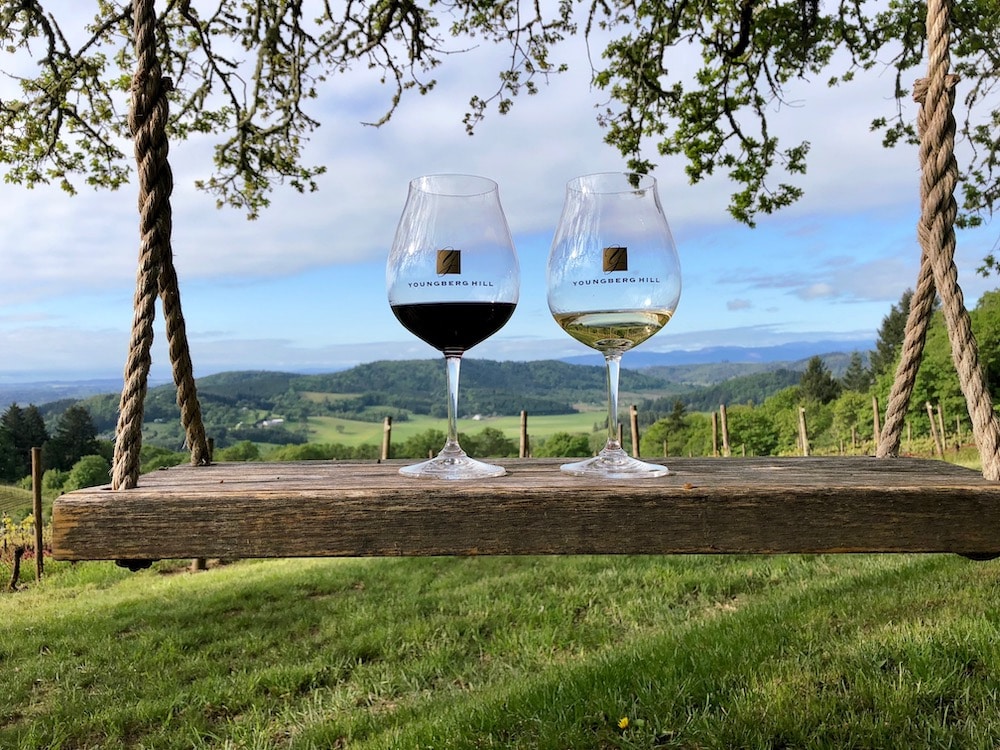 Romantic Things to do in Willamette Valley this Summer
For those heading to our Willamette Valley Bed and Breakfast with romance in mind, there are so many lovely activities and adventures for couples to explore. From guided wine tours and farm fresh dinners to casual lunches at a local brewery and stretching your legs on hiking trails—you can be as busy as you want. Schedule that downtime, though, as relaxing together should be on the list during your romantic getaway. 
Here are the five most romantic things to do near our Willamette Valley Bed and Breakfast: 
Booking a guided wine tour is one of the easiest ways to taste the bounty of wine in the Willamette Valley. Here's a list of our top four touring companies that all offer an immersive and fantastic experience—one of which is a tour via helicopter if you really want to add the wow factor to your next romantic getaway1 
There's no shortage of beautiful restaurants in McMinnville, but a newcomer, Okta, is making waves. From the mind of two Michelin star Chef Matthew Lightner (formerly of Portland's famed Castagna), this destination dining space is in the Tributary Hotel in downtown McMinnville. The tasting menu showcases produce from their own farm in the Dundee Hills.
Heading to downtown McMinnville for the day is a lovely way to spend time together. The popular Third Street offers the perfect place for strolling hand and hand, shopping for special gifts, and popping into tasting rooms for flights and nibbles. 
The Oregon Coast is a dreamy day trip destination for those joining us for an extended vacation. Only an hour from our Inn, you'll enjoy a scenic drive that opens up to the stunning coastline with sandy beaches, unusual rock formations, and pristine state parks with plenty of hiking opportunities. 
As a guest at our Willamette Valley Bed and Breakfast, you won't have to go far to find romantic activities. Find a cozy deck chair with a cup of coffee and take in the view together. Stroll along our gorgeous grounds and head for a wine tasting on-site. Relax in your guest suite for complete quiet and calm; after all, you're here to reconnect and enjoy each other. 
You'll be pampered at our Willamette Valley Bed and Breakfast morning, noon, and night. From the moment you step through our doors, you'll have everything you need to sit back, relax, and everything is better with a fantastic glass of Youngberg Hill Pinot Noir. Head over to our availability calendar and book your room today!